The most affordable device, with the features you'll love:
The GO S features you'll love:
1 built-in movement sensor
3 Advanced feedback plans
7 Days auto app syncing
Choose your posture trainer offer:
Or
"If you're struggling with poor posture, give it a try. It's small and effective!"
30-Day
Money-Back
1-Year
Warranty
US Free
Shipping
"If you're struggling with poor posture,
give it a try. It's small and effective!"
Take a closer look at the GO S posture trainer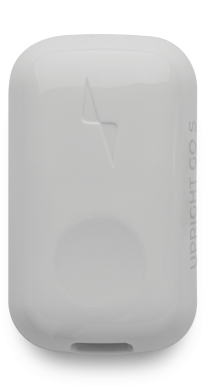 Advanced biofeedback sensors
The science behind Upright.

This built-in sensor detects your posture in real-time and gives you the feedback you need to correct your posture.

GO S includes one built in smart sensor.


You slouch, you get notified so you can fix it immediately.
Use while sitting
Daily training intensity setups
Set your preferred training intensity according to your mood, health and daily activity
Auto App syncing
Automatically stores and syncs your detailed posture activity for 7 days.

Simply reconnect to the app, and all of your data will load to your dashboard
Feedback plans
Customize the vibration settings (type and intensity) according to your posture training needs
with 3 feedback plans.
Battery & Power
Up to 6 days of training.

With longer battery life, you can improve your posture for longer periods without needing to stop for a charge.

*based on the recommended 3 hours of training per day
Auto Calibration
During each use, Upright Go S recognizes your current body posture and automatically calibrates and adapts itself for optimal training
Splash-proof
Immune to sweat, rain and water splashes
Device size
1.89" (48 mm)
What's included
Each posture training device arrives with everything you need to improve your posture fast.

1 Upright GO S
Soft travel case
USB-C charging cable
5 Adhesives
The two ways to wear
your posture trainer
The Upright Necklace:
Style and comfort in one
The Upright Necklace is a convenient and flexible alternative to adhesives. It clicks right into your GO S device for a secure, stylish and comfortable fit around your neck.
Get it with the kit
"This necklace is so comfortable to wear.
You wouldn't know you have it on!"
The Upright Adhesives:
Hypoallergenic and durable
Wear your posture trainer directly on your back.
Made from medical grade silicone, these light, hypoallergenic Adhesives secure your device in place and won't leave marks on your back. Included with the GO S.
Get it with the kit and single
"The adhesive is perfect.
I get multiple wearings with a single patch.
Just received 50 more, so I'll be standing tall."

Over 50% sustainable
severe pain reduction
Based on over 57K users reported reviews after 18 months
Science-backed technology
Based on over 57K users reported
reviews after 18 months
46%

Improved sitting discomfort

Upright is clinically validated by
4 published studies that
demonstrate
its effectiveness on
pain reduction
and overall
health.
54%

Pain reduction

Upright is recommended by more
than 500 clinics worldwide.

Over 57,000 users reported a 54%
or more reduction in back pain.
86%

Posture improvement

Poor posture can lead to increase in back
pain and changes in spinal alignment.

Self-confidence and self-esteem are
affected by poor posture and
contribute
to lower energy levels.
WHAT'S IN THE BOX
UPRIGHT GO S
Travel Case
USB-C Charging Cable
Adhesive Removal Tool
5 Reusable
Silicon Adhesives
Challenge yourself to change
With the Upright Mobile App
FAQ
What is the UPRIGHT GO S?
The new Upright GO S is the latest device from Upright, designed to make perfecting your posture more accessible and affordable than ever. Upright GO S is the simplest, fastest, and most natural way to improve your posture through advanced posture training technology derived from biofeedback and behavioral science. Strengthen back and core muscles, stimulate improved blood flow, and eliminate poor slouching habits once and for all.
Is the UPRIGHT GO S waterproof?
The Upright GO S is not waterproof and care should be takennot to let the USB-C port get wet. To ensure a secure fit, we recommend training with the GO S in a cool, dry environment as the adhesives don't attach well to sweaty skin and may fall off.
Are the adhesives reusable?
How long does each one last?
The adhesives can be used for multiple applications. Each one lasts up to 10 uses, depending on skin type and proper maintenance. For tips on how to get the most out of your adhesives, check out our Help Center
Where do you ship?
We ship worldwide. Shipping to the US is free, and non-US customers are responsible for any custom fees that may be associated with the order once it arrives at the border.
What is the return policy?